In this runtime field example repository you can find a list of possible runtime fields used in the Elastic Stack to ease the setup of new data sources. Elastic runtime fields are a great way to solve a couple of challenges you may run into if you are new to Elasticsearch. They were introduced in v7.11. You can read more about the intention in this blog article.
What is a runtime field in the Elastic Stack?
Runtime fields enable you to create and query fields that are evaluated only at query time. Instead of indexing all the fields in your data as it's ingested, you can pick and choose which fields are indexed and which ones are calculated only at runtime as you execute your queries. Runtime fields support new use cases and you won't have to reindex any of your data. Adapt to changing log file formats, query new fields that were not indexed at ingest time, fix errors in index mappings, or iterate on the preparation and perfection of indices over time.
Many of our prebuilt Kibana dashboards are using these runtime fields as well to improve the usability and accessibility.
How to add a runtime field in Kibana
The examples in this Elastic runtime field example repository just showing the painless script that is necessary to do the desired task. In Kibana you can add a runtime field using many different ways. The most easy ones are in Discover, Lens and Index pattern management. All of these option finally adding the runtime field to index pattern in Kibana. The runtime fields that are defined in the index pattern only existing during query execution time in Kibana. If you use e.g. external scripts these fields are not available.
To make runtime fields also available in external scripts and reindex jobs you need to add them to the mapping of your index directly using Kibana Dev Tools or Index Templates.
In Discover
In the Discover App of Kibana you can add a runtime field using the button next to the index pattern chooser. Just click on "Add field to index pattern" to add a new field.

After clicking on that you will see a new Sidebar. To add a runtime field you need to activate "Set value". All the scripts that we provide in this repository can be copy pasted into the "Define script" section.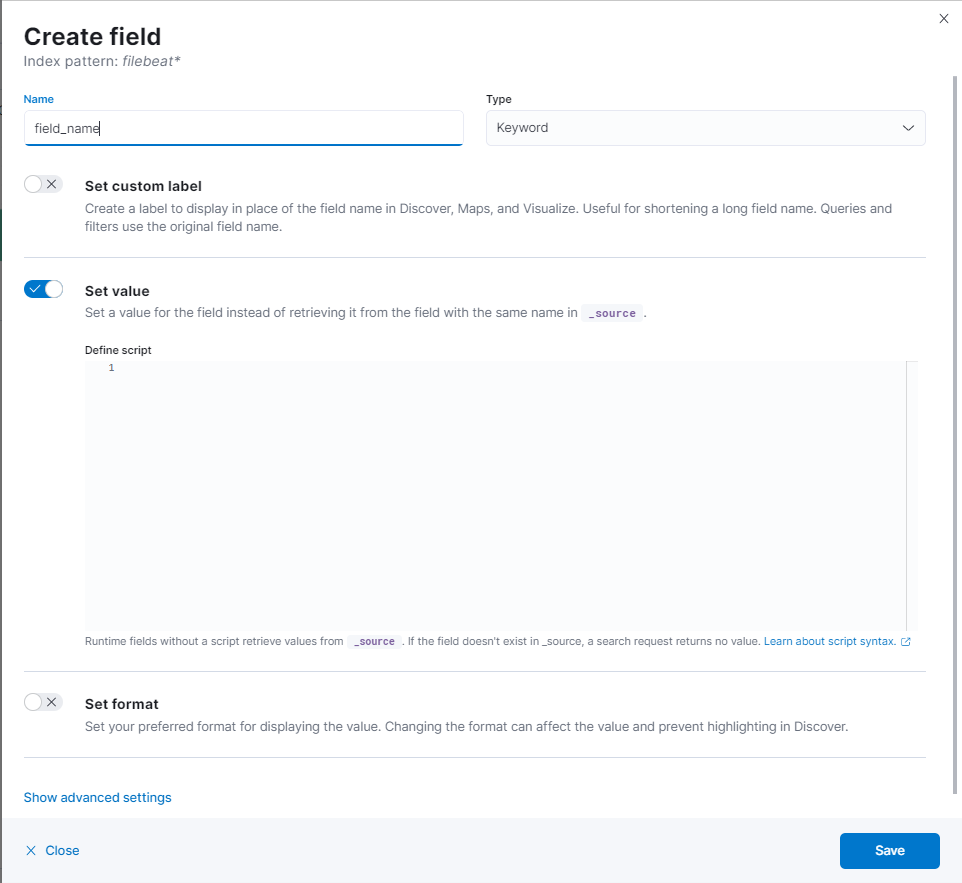 In Lens Editor
In the Lens Visualization editor you also have the possibility to add a runtime field to your index pattern. You can follow the same way as in Discover.
In Index pattern management
In the Index pattern management in Kibana you can also change your existing runtime fields. In v.7.14 there is no way to filter for runtime fields. So you need to know the name you provided to find your runtime field. When clicking on edit you get back to the sidebar and can change your runtime field. To see the result of that change in Discover or Lens you need to fully refresh the page to load the new definition.
Available runtime field examples
---
Submit your own runtime field